Quality Floor Plan Service Sunshine Coast for home sellers and real estate agents.
Boost your real estate listing with our quality Sunshine Coast floor plan service. Your Sunshine Coast real estate listing will be enhanced with a floor plan and industry statistics show that 97% of potential buyers will investigate an online listing further if it has a floor plan. Its all about offering as much information to a potential buyer as you can in order to attract their interest and inquiry. We can produce a basic 2-dimensional Sunshine Coast floor plan diagram or our most popular textured 3D look floor plan with furnishings. We believe a high-quality floor plan of your Sunshine Coast property combined with quality real estate photography will ensure the best presentation to potential buyers. In achieving the best sale price for your Sunshine Coast real estate listing sellers and agents need to ignite a potential buyers imagination and providing several methods to view a property with quality photography and a Sunshine Coast floor plan will do this.
CONTACT US: TEL - 0419 716 107 Email - This email address is being protected from spambots. You need JavaScript enabled to view it.
Real Estate Agents, private house sales sunshine coast and property developers can make use of our floor plan Sunshine Coast services. Commercial real estate sales can also benefit from a property floor plan.
Sunshine Coast Floor Plans can have a scale added and overall square meterage if required and correct figures are supplied. Agents logo can also be added.
Standard Black and White Floor Plan
3D look Colour Floor Plan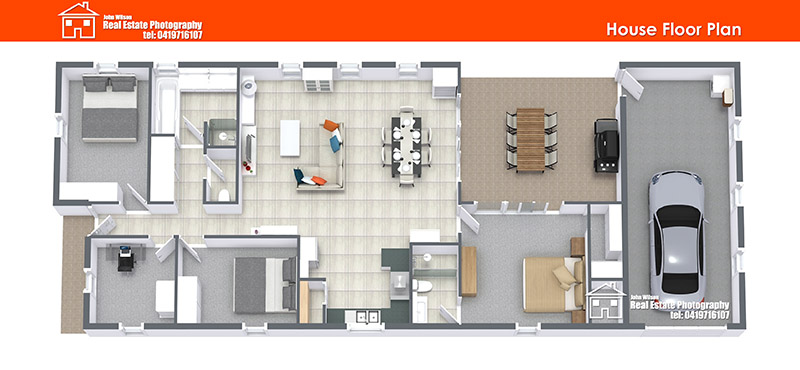 3D look Colour Floor Plan - Multi-Level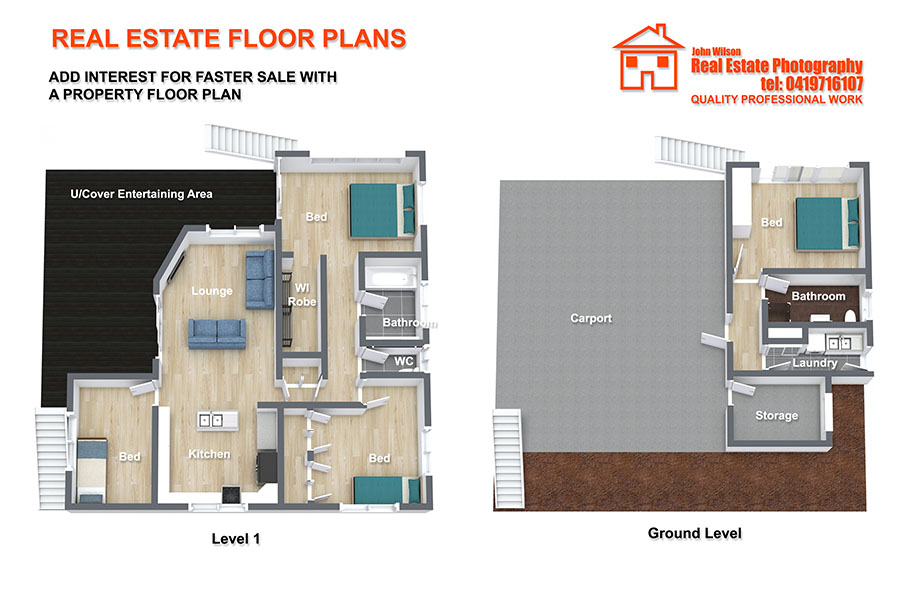 Sunshine Coast Floor Plan Pricing
For the best pricing for your sunshine coast property floor plan is to combine this service with one of our quality real estate photography services. We can offer a discounted bundled package to include your floor plan. If you don't require any of our additional services we can still produce a quality floor plan for you. Floor plan pricing also depends on whether you require us to visit the property to make the measurements we need or you can supply us with builders plan to work off. When we are supplied with a basic sketch of the property layout or a copy of the builders plan we are often able to deliver a finished floor plan the same day providing we have the information from you before 8:30 am. Some clients simply take a photo of the builders plan on their phones and email this to us so we can produce a floor plan for their Sunshine Coast real estate.
For more information about our real estate photography services please visit this page: Real estate photographer Sunshine Coast