Sri Lanka Tsunami, Part One - Journey to Aragum Bay
By John Wilson - Professional International Photojournalist
The Asian tsunami was one of the largest natural disasters in modern history. When I arrived in Sri Lanka, 48 hours after the disaster, I was shocked at the extent of environmental damage and human tragedy before me.
It seemed like the entire coastline had been turned into a massive the junkyard, everything was in confusion and chaos as far as the eye could see. Working in these conditions is extremely difficult mentally, emotionally and physically. On one occasion I recall traveling in a dilapidated mini van for eighteen hours in rainy conditions over washed out and traffic packed roads, with News Limited journalist Michael McKenna.
Australian Photojournalist John Wilson and Journalist Michael McKenna at Aragum Bay Sri Lanka reporting for The Australian newspaper
We traveled to the eastern side of the Island in response to community reports that entire communities had been wiped out and had gone unreported in the press. After a tortuous drive that began in the early hours of the morning we finally arrived on the outskirts of the seaside village of Pottuvil late in the evening. We drove through a village in ruins heading for a neighboring village which had been totally isolated by flooding seawater. As rain fell from a stormy sky we hitched a ride in one of the few remaining boats ferrying survivors back and forth between the villages.
A few small boats ferried survivors back and forth between the villages of Pottuvil and isolated Aragum Bay
Devastation in the village of Aragum Bay
As we walked through rubble and destruction we began to hear of incredible stories of survival and tragedy. One man described how he was caught by surprise as the sea engulfed the coastline and with nowhere to go he managed to climb to the top of a coconut tree and watched his village and residents washed away. Another man (main picture) described how he had been washed a kilometre inland, almost succumbing to the incredible force of the water and pummeling by debris. Trying to stay composed, he told us that his family had perished and all he could find of his family was a small pup that had somehow survived the incredible force of the tsunami.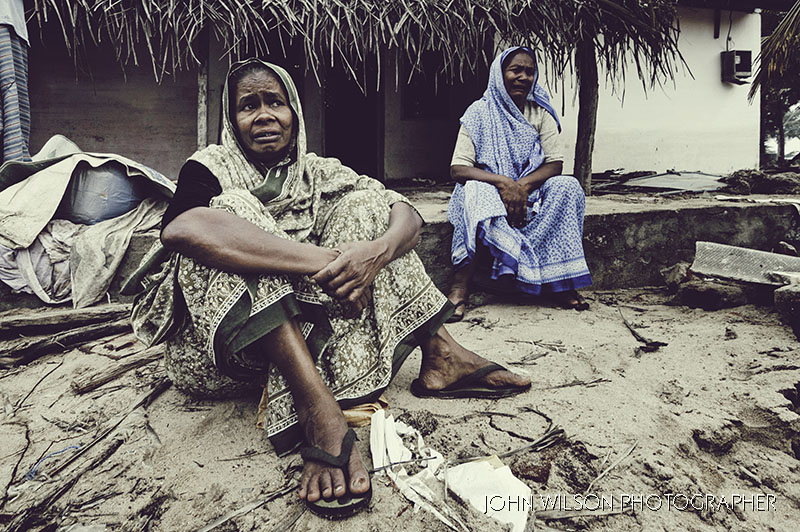 Tsunami survivors weep for the loss of family members and home
Reporting from a disaster zone
There is all manner of concerns photojournalists faces when reporting from a disaster zone. How to get to into an area, how to get back out, dangerous conditions and safety concerns (fallen power lines, contaminated water etc, etc), difficult weather conditions, how to communicate with the editor a world away, how to keep gear operational, how to feed yourself, where to sleep (if you get any sleep). I can go on and all the time there is the pressure of getting pictures to illustrate the story with limited time and wishing and hoping that you can actually transmit your images back to the magazine or newspaper.
My biggest concern professionally was being able to get my images back to the papers I was working so this untold story of devastation could get out to the world. I had satellite equipment but the heavy skies prevented a strong enough signal for transmission. I was facing a real dilemma. With no services left in the area, it was going to take at least a day or so to get my images out at best. We continued to work traveling back across the lagoon to the neighboring village of Potuvil to meet a man that had lost more than twenty members of his family. We arrived to find the man at a relative's house which had been spared from the devastation.The sadness was palpable but we were welcomed into the house and the man explained his incredible loss and fighting to retain composure. Reporting in these circumstances is tough. You must respect people and have empathy but also stay focussed on the job at hand to document a story. That is why you are there, however tough it may be.
A family of survivors takes shelter in a community building on high ground on the outskirts of Pottuvil.
Journalist Michael McKenna had been speaking to the man and relatives in the house and listening to their stories when I decided to walk out of the room to collect some more equipment I had left outside. I walked along a narrow hallway and passed by a room with some people huddled around a computer screen. To my disbelief, this house was the only home on the coast to have an intact phone line connected which could connect to the internet. My hopes rose as I knew we now had a chance to get our pictures and story out to the waiting world. Michael Mckenna was the first to see if he could send his story back to head office in Australia and we both had a sigh of relief when the email disappeared into the sent folder on the computer. Next, it was my turn. I had already edited some photos and had them ready on a memory card and ready to send as email attachments. I quickly made a series of emails for each image as to send multiple image attachments in one email may not be successful in these circumstances. With a dimly lit room full of eyes all peering over my shoulder we watched as I pushed the send button for the first email and it slowly began to send my first image. The network was very slow due to the damage and incredible traffic on the depleted system. We all watched anxiously as the message progress bar built, slowly sending the data back to Australia. I felt a great relief as the first image had been sent successfully and about half an hour later my final image had been sent. We had done it!
My kit for this assignment included:
2x Nikon D2x cameras

Nikon 80-200mm f2.8 zoom lens

Nikon 400mm f5.6 ais telephoto lens

Nikon 180mm f2.8 telephoto lens

Nikon 18mm f2.8 wide angle lens

Nikon 24-70 f2.8 zoom lens

Nikon 85mm f1.4 lens

Nikon 105mm f1.8 ais telephoto lens

Nikon 1.4x converter for the 400mm lens

Manfrotto monopod

2 Nikon flash units

Small translucent umbrella

Domke F1x camera bag

Lowepro backpack

Photo vest

Sony laptop

BGAN Satellite transmitter terminal

Pack of garbage bags to keep gear dry or store wet clothes while traveling.
For clothing on an assignment like this, I generally take one pair of hiking shorts and one pair of long lightweight trousers, lightweight long sleeve shirt and 3-4 tee shirts and - a heap of underwear! Believe me, you don't want to be caught out with serious rashes from perspiration and the like because you don't have extra underwear, pack heaps :). I generally pack a pair of light hiking shoes and sandals such as TEVA sandals.