Caloundra Real Estate Photographer Specialist for house and commercial photography
At John Wilson Media Photography we specialize in real estate photography in the Caloundra region of Sunshine Coast including Pelican Waters, Bokarina, Battery Hill, Bells Creek Mooloolah Valley and Landsborough. We have a full range of real estate photography Caloundra services to suit a variety of marketing strategies. We supply real estate photography and video including aerial drone photography for property sales or marketing of holiday accommodation or architectural photography for architects, builders and property developers in Caloundra and Pelican Waters, Bokarina.   
Our clients can book a single service for their real estate Caloundra needs or a combination and flexible pricing available. We also offer fast delivery times with our house photographer Caloundra services and always aim for next day delivery with photography and real estate floor plans.
 Contact John - TEL: 0419 716 107 EMAIL: This email address is being protected from spambots. You need JavaScript enabled to view it.
Caloundra Real Estate Photography Services
Clients can choose from the following Caloundra real estate photographers services: 
Interior and exterior property photography
Twilight real estate photography
Real estate video including walk through presentations
Aerial drone photography and video in selected areas (contact John to see if your property is suitable)
Real estate floor plans and site plans
Addition of property outlines or points of interest to aerial photos
Addition of Agent or Property name and or logo to images, video and floor plans  
Caloundra House Photographer
Quality real estate photography attracts better sale prices and faster sales according to statistics. Real estate sales statistics have found that property listings in the $300,00 to $1 million price range with professional photography attract several thousand dollars more in sales, on average than comparable listings with poor photos. Professional real estate photography should be considered a must for effective property sales and is a very low-cost investment in a potential sale. Our Caloundra real estate photography services can be bundled together for a complete visual marketing package with discounted pricing.
real_estate_photography_Caloundra14.jpg
real_estate_photography_Caloundra01.jpg
real_estate_photography_Caloundra05.jpg
real_estate_photography_Caloundra04.jpg
real_estate_photography_Caloundra02.jpg
real_estate_photography_Caloundra15.jpg
real_estate_photography_Caloundra13.jpg
real_estate_photography_Caloundra03.jpg
real_estate_photography_Caloundra12.jpg
real_estate_photography_Caloundra11.jpg
real_estate_photography_Caloundra06.jpg
real_estate_photography_Caloundra10.jpg
real_estate_photography_Caloundra23.jpg
real_estate_photography_Caloundra09.jpg
real_estate_photography_Caloundra07.jpg
real_estate_photography_Caloundra16.jpg
real_estate_photography_Caloundra17.jpg
real_estate_photography_Caloundra18.jpg
real_estate_photography_Caloundra19.jpg
real_estate_photography_Caloundra20.jpg
real_estate_photography_Caloundra21.jpg
real_estate_photography_Caloundra22.jpg
real_estate_photography_Caloundra24.jpg
real_estate_photography_Caloundra28.jpg
real_estate_photography_Caloundra27.jpg
real_estate_photography_Caloundra26.jpg
real_estate_photography_Caloundra25.jpg
Caloundra Real Estate Photographer Prices
Clients can have a small photography session for $190 to suit a small 2 bed home or unit and a larger bundled package to include interior, exterior photography and choice of floor plan or 2 drone images for $299. Additional images can be ordered. Please use the contact form below or call John 0419716107 to discuss your needs. We are available 7 DAYS A WEEK.
Real Estate Floor Plans Caloundra
With more than 90% of potential buyers searching online initially when buying property, sellers can make their Caloundra property listings standout and be more interesting with the addition of floor plans. Statistics show 97% of potential buyers will investigate a listing further if a floor plan is present. Our real estate floor plans offer a unique 3D look and can have agent logos and information included.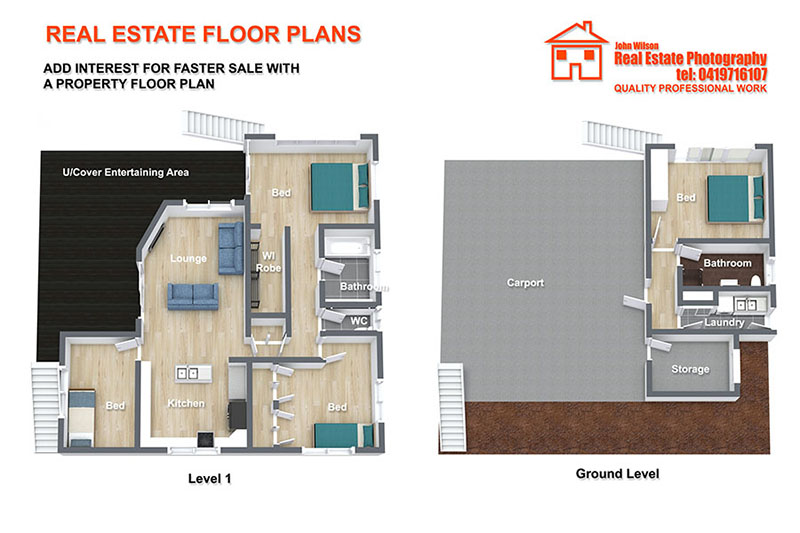 Aerial Drone Photography Caloundra
Aerial photography of properties can also be an effective way to present a property and add interest to a real estate agent listing. There are certain limitations for this type of photography in some areas of the Sunshine Coast and homeowners or real estate agents can contact us for advice on this. 
Advice for Caloundra Property Sales
The Caloundra region has some of the best capital growth areas in QLD and at time of writing the areas of Bokarina and Battery Hill being standout suburbs. Owner John Wilson of John Wilson media has been involved with photographing real estate for the best part of 30 years. John recommends buyers ensure they have good quality photography for their listing and equally as important spend the time to research the quality of agents and in particular their listing presentations. John has written a couple of articles with information about finding a good agent and selling your property yourself which is becoming increasingly popular with homeowners wanting to maximize profit and save many thousands of dollars paid to agents vis commissions. 
Terms and Conditions
We give 7-day accounts to established business clients and for private homeowners, we expect payment prior to work or cash on the day (if this has been discussed with John). Payments may be made via direct deposit or via credit card which has a 2.6% handling fee added to the total cost. In some circumstances, we will allow 50% payment prior to work and the balance in cash on the day. All monies paid prior to work is considered as the booking fee for the work
Day/s of shoot - Residential and Commercial Properties and accommodation
We will photograph property as it is presented to us and it is not our responsibility to move furniture, appliances, towels, dishcloths, poolside furniture etc. We expect the property to be ready for photography when we arrive. Extra visits to the property to complete work due to rooms not being ready, weather changes etc will incur an additional charge. Please discuss these conditions with John directly to ensure photography is completed as discussed.
Cancellation Refunds
For cancellation within 7 days of the work, there will be no refund of the booking fee paid however we can reschedule the date for the work. The rescheduled date will be at a time suitable to our schedule and will be discussed with the client.