Hervey Bay Real Estate - Sales and Buying Advice with no agent
Units, villas, apartments, flats, condominiums, Queenslanders or duplexes... Whatever you are selling! Get the best Hervey Bay Real estate agent advice. John Wilson Media, with 30 years experience, has realized the demand and the new trend in private house sales in the market and we offer free real estate advice in Hervey Bay for property owners. Record numbers of homeowners are ditching traditional Hervey Bay real estate agents in favour of selling privately and maximizing profit.
WE CAN HELP YOU SELL YOUR HERVEY BAY REAL ESTATE WITHOUT AGENT COMMISSION!!
If you are considering buy or selling a house, apartment, unit, villa, flat, or condo in Hervey Bay consult the specialist in private home sales advice, John Wilson Media. Did you know that more than 90% of people search online for a property to buy? There is no point signing up with a Hervey Bay real estate agent and paying 10-15k in commissions when you can do exactly what they do and list a property on the internet yourself. The process to sell your home privately is very, very easy and the success rate from homeowners we have worked with is 100% property sales selling privately in Hervey Bay and Maryborough. We have the case studies of our clients to prove this fact!! Take a look below at some recent private house sales from the region which John Wilson Media helped with supplying quality real estate products to produce an eye-catching listing online that attracted potential buyers.
Did you know that around 4 million people view the main property websites each month? These websites are not Hervey Bay real estate agent but the main property sites used by people to buy and list property. Sellers MUST be on these websites and forget about the local agent sites. To prove this to yourself just google up a street address or search for "houses for sale in a Hervey Bay or Maryborough, and see what appears in Google. The websites of www.domain.com.au and www.realestate.com.au dominate the results and this is where real estate is bought and sold. Agents have extremely little to do with this other listing your house which you can do yourself for an absolute fraction of the cost an agent will charge. We have seen Hervey Bay real estate agents even charge clients a fee for listing a house on these sites. This is on top of the incredible commission they charge. It really is double dipping in our opinion. Real estate agents in Hervey Bay have among the highest rates of commission in the country and sellers can be looking at being charged anywhere from 2.7% to 3.4% in commission. We believe this is way out of proportion in relation to the amount work done and the skill level required to do this.
A Hervey Bay real estate agent will spend a few hours at most listing a property online, putting up a for sale sign and maybe showing a couple of people through a house. This is not highly skilled work and in fact to become a real estate agent all that is required, at the time of writing, is a fee of $500 paid after answering a few questions from a few modules. That is it and for about $2000 you can become an agency. For these minimal requirements, real estate agents believe they should be able to earn thousands of dollars an hour. When you consider a surgeon who earns similar money has to train and study for years to earn similar amounts of money it seems a bit rich that a real estate agent should be charging what they do. We have heard agents defend these enormous fees by saying they provide up to date market knowledge and advice and cutting-edge technology which the home seller can find easily online and use themselves.
Selling your home privately will maximize profit and the process is not difficult. Below are results from our clients that have used our services and FREE ADVICE to sell their homes in hervey bay privately.
THE BIG SECRET TO SELLING YOUR HERVEY BAY REAL ESTATE
The number one priority when you sell your home should be in its online presentation. When you list your property online the only way you will attact interest is through how your listing looks. You MUST have QUALITY PHOTOGRAPHY if you want to achieve the best possible price. We have seen some absolutely terrible photography some Hervey Bay real estate agents are content to use in property listings. The agents are doing a disservice to their clients and don't care because they get a hefty commission no matter what the property sells for. Selling your house privately will maximize profit but in order to justify your price to potential buyers it is essential to have quality images. This is true even if you are selling an older home or rural property. Your property photos ARE THE FIRST POINT OF CONTACT WITH POTENTIAL BUYERS. It is foolish to underestimate the power of quality photography to capture the interest of buyers. Statistics show that a property listing has 20 seconds to create enough interest with a buyer to continue looking through the listing The real estate photography and video products we produce at John Wilson Media will effectively capture and help promote your property when you list your house for sale. Our clients are able to choose from a selection of photography and video products such as magazine quality internal and external photography, Twilight evening or morning photography, aerial photography and video along with a walkthrough video. All these services combine to create a captivating viewing experience for a potential buyer.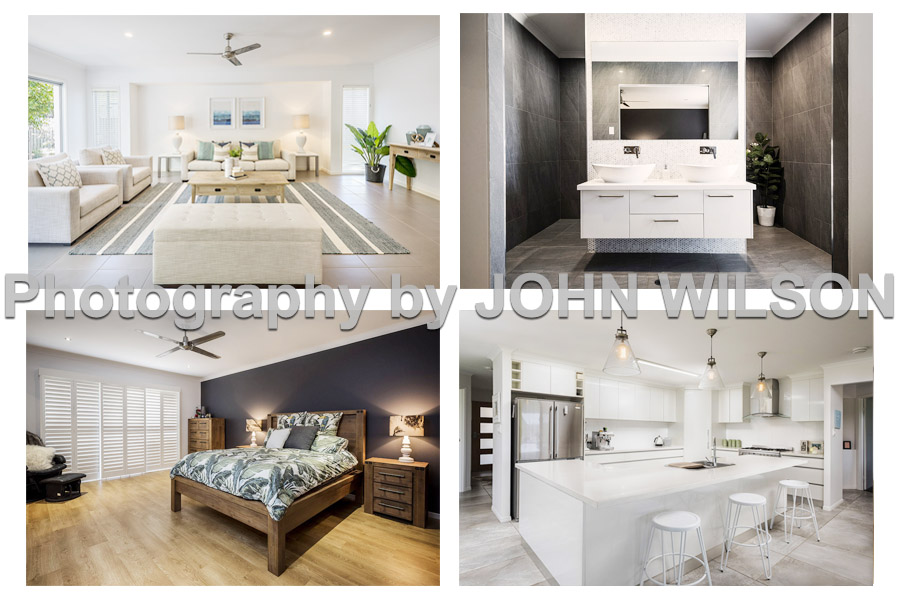 Creating an eye-catching property listing
Great photography will ultimately turn a potential buyer into making an inquiry but it is prudent to ensure your entire listing has the goods to guarantee this contact. We advise the use of a floor plan in addition to professional photography. The modern floor plans produced by John Wilson Media can be either standard 2D black and white or Colourful 3D look plans with furnishings.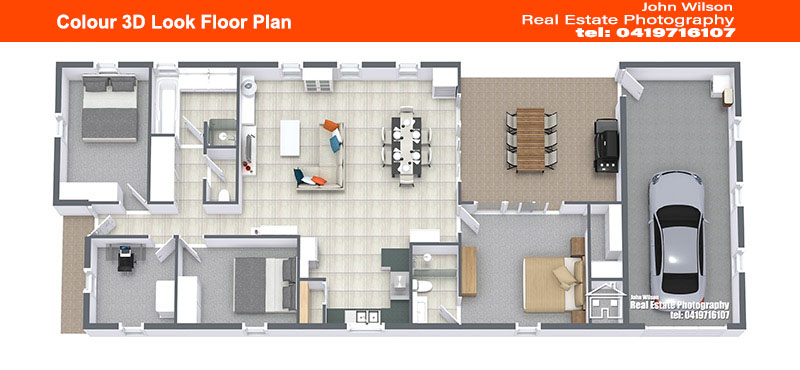 Your property blurb needs to be written well. Ensure all the positive feature are listed but don't forget to add a little about why it is so great to live in the area. How close are the airports and transport routes, what attractions, shopping, schooling and medical facilities exist are all things homebuyers are interested in knowing about.
Please contact us if you need some help getting your property ready for listing and if you leave some details below we will also send you our FREE 24 page EBook with tips to selling your house via private sale.
Useful Links:
RealEstate.com.au - Tips for selling blog